The World's fastest charging portable power station
EcoFlow has the fastest charging technology available. Charge from 0-80% in under 1 hour.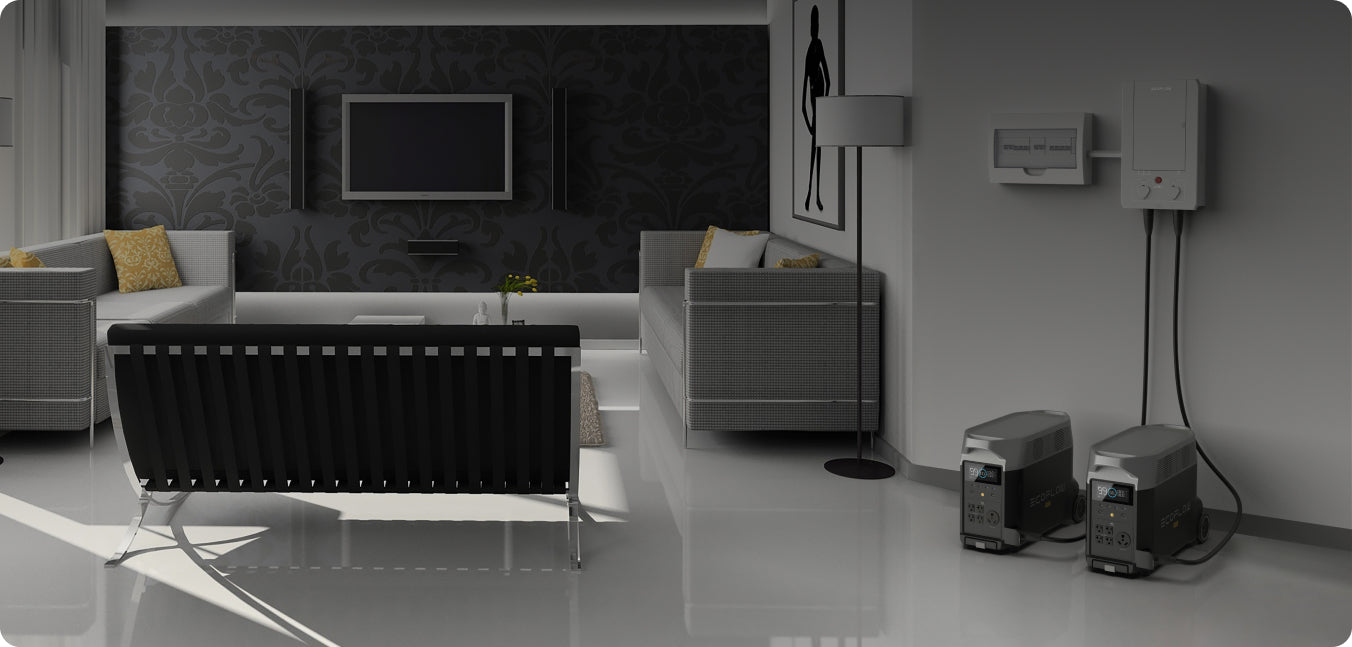 Home backup power
Never get caught in the dark. EcoFlow DELTA portable power stations provide backup power during blackouts and power outages. Unlike gas generators, they operate with no fumes and can be used both indoors and outdoors. Keep your fridges, lights, and other essential devices running at the push of a button.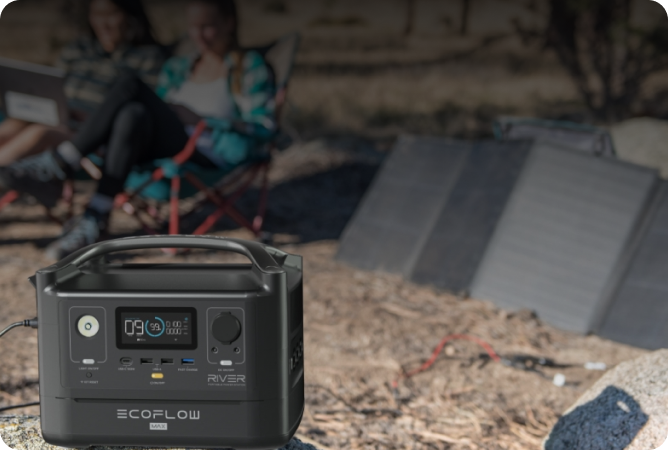 Off-grid power
Home is where the power is. From RVs to off-grid cabins, keep everything powered and charged up with portable power stations. Pair your EcoFlow DELTA up with solar panels to collect and store power from the sun.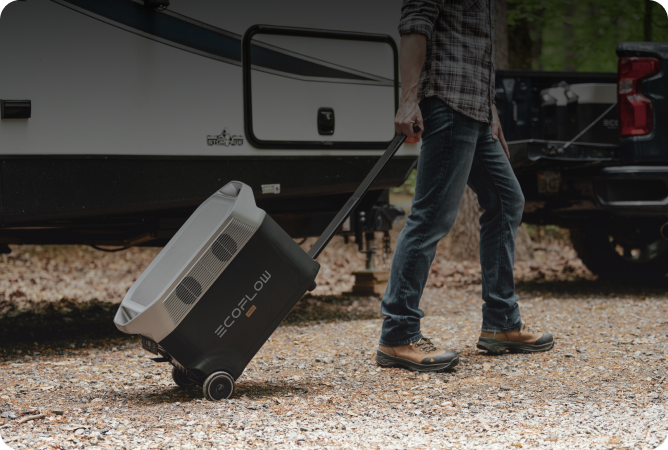 Power for the road
For the adventurers out there. EcoFlow DELTA portable power stations have all the charging ports you need to run multiple devices from one convenient space. So roll down the windows, turn up the speakers, and hit the road.
What Customer Loved About Us
Very helpful with excellent…
Very helpful with excellent communication before, during and after the sale. Very pleased with their customer service!
Mark S. Verified User
Mar 13, 2022
Good work, Delta
Just received my order, boxed and shipped fine. Under construction now, will be unable to open and install for a month or two. I hope my warranty will start when I do open and install the unit. Bill D.
Bill Defferding Verified User
Mar 6, 2022
Received what I ordered.
Received what I ordered, great price!
Randy Verified User
Feb 26, 2022
Best price along with fast shipping.
Best price along with fast shipping.
Cooper Verified User
Feb 24, 2022
They have been great.
They have been great... Quick to respond and worked diligently regarding when I needed to return an item.
Anonymous Verified User
Feb 13, 2022
Top notch costumer service skill…
Top notch costumer service skill provided from Drew.
Mohamad Elreda Verified User
Feb 02, 2022
Excellent service.
I called to order a line set for my mini split, but had several questions. Their customer service was superb, they answered all my questions and when I stressed my concerns with shipping, Alex worked tirelessly to rectify my concerns and I can say that I am extremely happy with my purchasing experience. I would definitely order from them again when I need to.
Special thanks to Alex and Maria!
Dick Swartz Verified User
Jan 19, 2022
Alex was very knowledgeable...
Alex was very knowledgeable and easy to work with the item arrived on time
Kenneth Starkweather Verified User
Jan 15, 2022
Great customer service!
Great customer service, they contacted me to make sure I ordered the correct piece. Answered all my questions, were very professional.
Damola Ayo Verified User
Jan 1, 2022
A pleasurably abnormal customer service experience!
Very rarely do I experience a company that stays in direct personal contact with you up until you receive your order. Astonishing customer service and a very speedy delivery. My product arrived 3 days after ordering. Highly recommend.
Power Maxx Verified User
Dec 30, 2021
I shop online extensively and have to say best support, hands down...
I shop online extensively and have to say best support, hands down. Alex worked to get order out even with part coming from Kentucky after the massive tornado not to mention it being a week before Christmas. Line set was lost on the job and without Alex's help I would have been jammed. Don't know much about the company, but with people like Alex, they are doing something right.
Ang C Verified User
Dec 17, 2021
Equipment arrived fairly quickly…
Equipment arrived fairly quickly considering shipping delayed it by two days but everyone has been extremely helpful with questions.
Travis Cooper Verified User
Dec 9, 2021
Alex is the bomb!
I started looking online for a multizone mini split that i could do myself. I found my way to cool minisplits and was a bit confused as to what i needed. I was about to give up when Alex sent me an IM and helped me along! I placed the order and when it was completed Alex sent me his contact info in case i had any questions. The delivery was timely and pleasant. I even asked Alex about if i qualified for a tax credit and he looked the info up for me! All in all it has been a great experience! I wish everyone had an employee as diligent as Alex! Also the minisplit is a breeze to install although i do own a remodeling business.
Joshua Holland Verified User
Dec 2, 2021
The best unit I ever have installed, so easy
Well I am just a DIYer and have a two car garage with a vault ceiling and a little shop next door. So I bought one of these split systems from MrCool and when it arrived, I must say very well packaged, I mean every piece is well packaged and then put on a palat and sealed up the best. It took about 4 hours to install both units and hook it all up but then I had everything ready including the electrical all run and ready to go. Just had to drill 2 holes and install. This thing is the best and so darn easy to install.
Chris Mueller Verified User
Dec 1, 2021
Highly Recommended!
We've bought couple units with Cool Minisplits after checking the market thoroughly. The customer support is amazing and the experience flawless.
B Mighty LLC Verified User
Nov 26, 2021
Alex was my sales person.
He was concise, polite, professional.
Ronald Sandborn Verified User
Nov 25, 2021
Wonderful purchase experience!
Wonderful purchase experience. Was contacted immediately after my online order to confirm every detail, the shipment was well packaged and my order arrived complete, undamaged and ready to install.
Shaun Verified User
Oct 8, 2021
Long awaited back order issue solved.
Hello just wanted to let you know That I received the other three line sets today thank you for your diligence and communication throughout this process much appreciated.
Ron Grace Verified User
Sep 27, 2021
Highly recommended!
Great service. Excellent communication. Fast delivery. Highly recommended.
Pablo Fazio Verified User
Sep 20, 2021
This company is by far the Best!
This company is by far the best to work with. I have purchased two units from them with 5 air handlers all working so nice. The price was great and customer service was amazing. Alex always answered his phone or would text back right away. All these units were for my sisters house and I must say after seeing them work so smoothly I am now shopping for my own set. Thanks guys for all your help!
Michael.
Michael Marceaux Verified User
Sep 12, 2021
Outstanding company!!
Outstanding company!!! We are incredibly happy. We had been looking for mini splits for our church bookstore+office since early 2021. We initially placed our order for condenser + 3 heads w/ ANOTHER company, they said our order had shipped & then cancelled our order without bothering to contact us.
Somehow I found CoolMinisplits. Their prices were SO MUCH better for us (non-profit church), allowing us to be able to purchase a higher BTU condenser & higher BTU heads. I did the online chat to confirm that what we were ordering was appropriate for what we had planned. ALEX was awesome! He confirmed our choice & told that there was a national back order on the lines (which we knew about) but we were allowed to place our order (Aug 12) w/ the understanding it would ship when the 3 lines arrived.
Out of nowhere yesterday (Sep 9) I received an email that our order was being shipped. It arrived that same day, just a few hours after the email was sent!
We are so happy!!!!
Thank you Alex & CoolMinisplits ❤️
Anonymous Verified User
Sep 11, 2021
Cool Cool Cool...Very Cool
A new company name? You step back..Search the internet, call some numbers, chat with someone..And then make a decision. I too had the same experience and am very satisfied that I found this company cool-minisplits.com. The staff (including Manager) is very helpful, honest, knowledgeable and above all friendly. Alex, thank you very much for your help on ordering MrCool 4-zone Diy minisplit. Wonderful experience and definitely will recommend 'Cool-minisplits' to my friends.
Trust the pilot Verified User
Jul 13, 2021